Is your Aircon Not Cooling Enough?
We know how you feel especially the hot and humid weather in Singapore. Things get tricky when the weather becomes very hot. Things can get unbearable indoor if the aircon is not cold.
From our vast experience, the main reason is usually caused by lack of aircon maintenance.
In this article, we explain the common reasons that make your aircon not cold.
AC Filter Is Dirty
Faulty Compressor
Aircon Coolant Is Leaking
Dirty Or Leaky Evaporator Coils
Thermostat Is Faulty
Sounds complicated? If you need help, feel free to contact us for FREE consultation.
Cool Earth is the fastest leading aircon servicing company.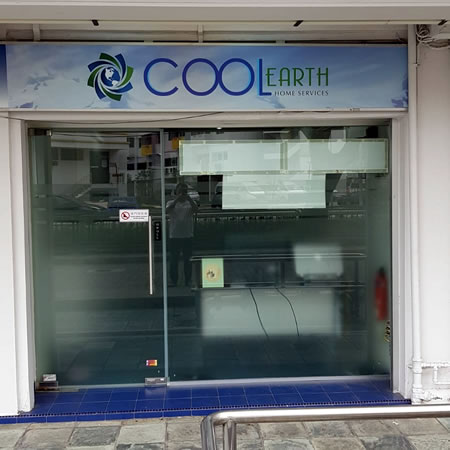 Our lead technician has 18 years of aircon servicing and repair experience.
12 technicians with at least 3 years' experience
Provide same day or next day emergency service
Office hours start from 8 am to 10 pm daily
100% fix all your aircon problem at honest aircon service price.
Specialise in troubleshooting aircon leaking problem
Specialise in more than 6 popular aircon brands
Free follow up services within 7 days
Free aircon gas check-up service
Guarantee 90 days workmanship warranty
Provide 100% safe aircon chemical cleaning solution to remove the bacteria inside your aircon
Recommended. Take longer time to service but happy its being cleaned thoroughly.
Denise Dunigan
03:27 24 Mar 21
Simply one of the best in town! Professional and prompt services. We have booked their services both for residential and corporate spaces. The team,

led by Michael, was really warm to deal with, and they tried to be as transparent as possible in guiding us about the repair they were doing. As a repeat client, I cannot recommend them enough. If you want quick response from the team, you can simply contact them through their website. An customer specialist will immediately be in touch with you there.

read more
ERNEST JAVIER
07:31 15 Jul 20
Book an appointment easily via whatsapp and the aircon technicians Brendon assigned arrived on schedule.I also want to say that they provided great

service and were really through in explaining my issues. They were also really nice and made sure to clean up after performing their work. Great job guys!

read more
Yi Ting Lee
05:18 24 Nov 20
Great professional services. We've had bad experiences with professional cleaners and aircon specialists before, so we were naturally wary about this

at first. Fortunately, after our third try, we found the professional partner for our home (and even our home office). You can readily sense that they have been doing this for years because of their efficient system, from booking to dispatching. Their aircon specialists are also skilled and I heard from one of the specialists that they are required to renew their license annually. Great thanks and great job!

read more
Jacqualine Rolle
01:51 02 Aug 20
LEE EMANUEL
03:11 04 May 21
Thanks for the great job and clean up the mess after servicing. Will use again.
Looks good to me. Not big surprised but ok.
Tarra Gardener
03:47 26 May 21
Below are some of the possible reason why.
1. Your AC Filter Is Dirty and Blocking the Air Flow
A dirty air filter makes the AC work overtime with irregular air management being the first thing that goes wrong. A clean and well-maintained filter will allow cool air to flow into the house.
The dust that accumulates around it cause it to slightly heat up and this affects the proper flow of cold air. Also, the dirt means the unit is supplying polluted air.
A quick check of the air filters every month to ensure it is clean and working properly can help correct the problem.
2. Issues With The Faulty Compressor – Not Blowing Cold Air
The compressor is a vital component in any aircon.
Its primary function is to cool air before pumping out into the room. If the compressor has problems, its function is hampered.
Issues related to the AC not providing cold air may stem from the compressor being blocked, and this means the flow of cooled air is not possible. The blockage could be caused by dust, dirt and tiny debris which is a rare thing and should be corrected by a skilled technician.
Dirt or debris may not block the compressor, and it still fails to work as it should.
In most cases, it could be frozen causing the entire air conditioning system not to work properly.
Ideally, the compressor is meant to condense air so that it is cool or cold before pumping it into the room.
It runs and a freezing temperature and can at times freeze over due to various issues that may include being blocked by dirt and debris.
Have the compressor checked, defrosted, and repaired so that is can cool the air.
4. The Aircon Coolant Is Leaking and Cause Air Con Not Cold
The compressor pumps a special fluid called a coolant or refrigerant which the AC cannot do without if it is to cool the air.
The principles of how the compressor works inside the AC unity are the same as those of how it works inside a fridge whereby the fluid is pumped and recycled as it runs through evaporator coils to cool the air.
If the refrigerant is leaking, then there will not be an adequate amount in your aircon for the unit to work correctly and generate cold air. Having the coolant refilled and any leaks repairs will solve the problem.
5. Dirty Or Leaky Evaporator Coils Within Your Air Conditioning
The evaporator is a series of coils through which the refrigerant circulates to cool air.
It is a vital component in the AC that is responsible for the cold air you want the unit to produce. It will not work as it should if it is dirty.
At times, it may leak, and this may also affect its efficiency.
Cleaning it and ensuring that it is not leaking the coolant can be all that is required to have the air conditioning system producing cold air.
6. The AC Thermostat Is Faulty
At times, the air conditioning system may run when switched on yet fail to generate cold air.
The necessary components that are tasked with cooling air may be in good working condition, but nothing is happening.
The problem, during such circumstances, could be with the thermostat which could be broken or acting up.
It may not be reading the set temperature readings thus failing to trigger the entire AC system to generate cold air. The remedy for this problem is to change the thermostat.
Additional Issue Of Concern Why Aircon Not Cooling
It is possible that your aircon keeps breaking down, which could be due to one of two things.
Either you are using an old unit with worn out parts or the air conditioning system is not the right size for your home. The aircon will not be able to produce enough cold air for your home if it is too small a unit.
Ensure that you have the right size so that it does not have to work so hard to deliver the preferred room temperature conditions.
For the above information, it is clear that the aircon not generating cold air or working correctly is due to poor maintenance.
It is important to service air conditioner at least once a year with minor maintenance checks done after every one or two months.
Need Our Help?
–
FAQs
Why is my aircon not cooling the room anymore?
This could signal a problem in your compressor, the part of AC that is responsible for creating the cold air. Dirty aircon may also cause your aircon to take a lot of time to achieve the desired temperature.
I can't adjust the temperature of my aircon lower, what could be the problem?
This could be an issue in your thermostat that may need recalibrating, or some particle that is blocking your condenser causing difficulty of cooling down the room.
Why do is my aircon making noise?
Noisy aircon is often a sign of a loose fan or other items that have fallen within the unit. Noise in the aircon should therefore not be ignored for a long period.
Is there any checking fee for aircon repair service?
Yes. Our checking fee of $50 will be waived if you decide to proceed with our service proposal.