What Is the Covid-19 Circuit Breaker In Singapore?
Singapore entered a "circuit breaker" period as a precautionary measure against escalating COVID-19 infections. During these times, Singaporeans have been advised to stay in their residences when possible. To reduce the risks relating to infections, new laws have banned all gatherings relating to friends and family that don't live together.
Gatherings at public spaces, at home (like HDB void parks and decks), have also been banned. By May 2021, Singapore was in the 3rd phase of lifting the "circuit breaker" measures. However, on 8 May 2021, the nation was returned to Phase 2, for a week before entering the "Heightened Alert" phase from 16 May 2021.
Is An Aircon Service essential During The Circuit Breaker?
No. MTI regulations and rules have stated clearly that aircon services are not regarded as essential services. You can only hire a professional technician when an aircon service becomes absolutely necessary since it is classified as a non-essential service.
Employers that provide aircon services are required to apply to the MIT for a general exemption. Only once the application is submitted can a company provide the service which states the manpower and period-of-operation requirements.
The companies that receive approval from the MIT will be permitted to provide an aircon service, but they must adhere to a set of safety measures.
Aircon repairs have been limited to aircon chemical wash services, aircon installations, and repair services only when a unit requires replacement due to a complete breakdown. Standard aircon services are not permitted, which means you may have to do it on your own.
In Phase 2 the "Heightened Alert" we are allowed to repair, maintain, service, and install your air-conditioner, as long as we adhere to Safe Management Measures. Building-related and renovation services and works are permitted to continue from the 16th of May 2021. However, when there are residents inside the building where the work will be carried out, then only 2 workers will be permitted per day.
Can I Repair My Aircon During The Circuit Breaker?
Air-conditioner maintenance and repair fall under the services that are permitted to resume from 2 June, since Singapore has exited the "Circuit Breaker".
However, operators are faced with huge backlogs and are still required to comply with the stipulated approvals and safety measures before they are allowed to restart work.
Even though an aircon service is not permitted during "Circuit Breaker", customers can still choose aircon repairs to ensure their aircon unit remains in a "working" condition.
Can I Service My Aircon During The Circuit Breaker?
Aircon repair work is still limited to aircon installations, chemical wash services, and aircon repairs only when your unit has completely broken down and needs to be replaced.
Standard aircon services are not permitted, which means you may have to conduct these services by yourself.
Can I Install an Aircon During Circuit Breaker?
Stipulated safety measures must be implemented during installation, maintenance, and servicing works at every commercial and residential premise. The ministry has also clarified that the companies that provide air-conditioner maintenance services are required to first approach the authorities to make an application to complete any work since this is not regarded as one of the essential services.
What are the options if aircon service is not available during circuit breaker?
Everyone knows that the aircon usage demand is high in Singapore. The first thing you can do is to clean the aircon filter by yourself. This will provide a quick fix and increase airflow for your AC unit! Next, use a vacuum cleaner's suction power on the surface of the evaporator coil, but be careful not to damage anything on the coil.
If you need help, feel free to contact us for FREE consultation.
Cool Earth is the fastest leading aircon servicing company.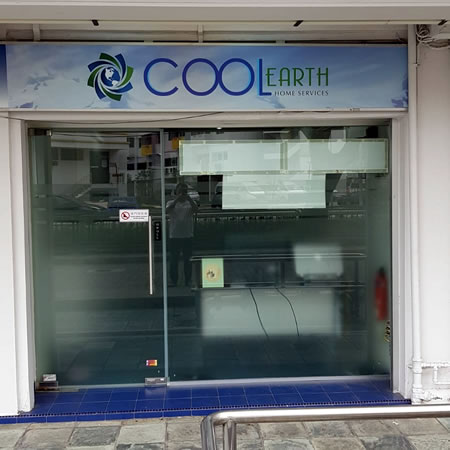 Our lead technician has 18 years of aircon servicing and repair experience.
12 technicians with at least 3 years' experience
Provide same day or next day emergency service
Office hours start from 8 am to 10 pm daily
100% fix all your aircon problems at an honest aircon service price.
Specialise in troubleshooting aircon leaking problem
Specialise in more than 6 popular aircon brands
Free follow up services within 7 days
Free aircon gas check-up service
Guarantee 90 days workmanship warranty
Provide 100% safe aircon chemical cleaning solution to remove the bacteria inside your aircon
Recommended. Take longer time to service but happy its being cleaned thoroughly.
Denise Dunigan
03:27 24 Mar 21
Simply one of the best in town! Professional and prompt services. We have booked their services both for residential and corporate spaces. The team,

led by Michael, was really warm to deal with, and they tried to be as transparent as possible in guiding us about the repair they were doing. As a repeat client, I cannot recommend them enough. If you want quick response from the team, you can simply contact them through their website. An customer specialist will immediately be in touch with you there.

read more
ERNEST JAVIER
07:31 15 Jul 20
Book an appointment easily via whatsapp and the aircon technicians Brendon assigned arrived on schedule.I also want to say that they provided great

service and were really through in explaining my issues. They were also really nice and made sure to clean up after performing their work. Great job guys!

read more
Yi Ting Lee
05:18 24 Nov 20
Great professional services. We've had bad experiences with professional cleaners and aircon specialists before, so we were naturally wary about this

at first. Fortunately, after our third try, we found the professional partner for our home (and even our home office). You can readily sense that they have been doing this for years because of their efficient system, from booking to dispatching. Their aircon specialists are also skilled and I heard from one of the specialists that they are required to renew their license annually. Great thanks and great job!

read more
Jacqualine Rolle
01:51 02 Aug 20
LEE EMANUEL
03:11 04 May 21
Thanks for the great job and clean up the mess after servicing. Will use again.
Looks good to me. Not big surprised but ok.
Tarra Gardener
03:47 26 May 21
Easy to set appointment. The aircon chemical wash did the job to remove all the bad smell. Recommended.
Jimmy Gorrell
02:07 28 Jun 21
CoolEarth AC is one of the best companies where you can get the services you need when it comes to aircon servicing, maintenance and repair. They are

affordable and provide great customer service too!

read more
Marjorie Perrotta
02:27 31 Jul 21
On time and responsive by customer service. Helped to arrange same-day service on confirmation.
BENJAMIN YEO
04:03 26 Jul 21
The technicians at CoolEarth AC really know what they're doing when it comes to aircon repair and service! Their rates are good too which is always a

plus!

read more
Voncile Yea
02:51 31 Jul 21
Just wanted to say a big thank you to the team! I was having some trouble with my aircon and they were able to come and take a look at it very

quickly. They were able to repair the leak and get my aircon up and running again in no time! Great service, would definitely recommend.

read more
Collette Goh
06:23 27 Mar 22
We had lots of problems with our air conditioning unit. It was not cooling the room properly and it was leaking water at some point. Luckily, cool

earth came to solve all these problems for us! We are now enjoying cool air inside our home because of their service...

read more
Theresa Soh
06:23 14 Feb 22
Honest service from the technician Mr Nick. Knowing we spend alot for the servicing previously from another company but still doesn't fix the issue,

he suggested a cheaper alternative. Show us the problem, clean it up and our aircon works great ever since. Knowledgeable on LG aircon. Booking was easy , replies through WhatsApp was fast too.

read more
Serviced by Brendon, did for 2 wall mounted unit and helped to check Aircon condition and informed us the prevailing possible issue. We opt for

cooling gas top up also, the service was fast and efficient, thumbs up for the service.

read more
Got my 3 aircon units serviced (general cleaning, chemical treatment and gas top-up), and work was done well. Brendon was very professional and made

sure to explain to me what the condition/issues of the units are before doing any additional work.

read more
Nicole Golloso
08:57 06 Aug 22
Very good service, prompt replies and did everything via WhatsApp, including arranging site survey as well as installation + cleaning. Very

reasonable prices and service team always arrive early or on time. Installation was faster than expected. Highly recommend.

read more
Chong-U Lim
03:51 28 Apr 22
Last Updated on